THE NX SERIES
LEAD AT EVERY TURN.
SHARP-EDGED EXTERIOR AND FUN-TO-DRIVE EXPERIENCE. THE 2018 NX SERIES STRIKES THE RIGHT BALANCE BETWEEN THE ROAD AND YOU.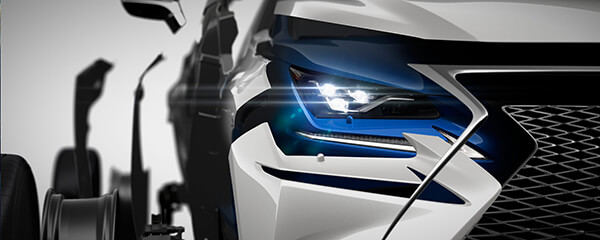 THE NX SERIES
MAKE EVERY DRIVE AN ADVENTURE.
The new NX F SPORT adds sports-tuned suspension and F SPORT styling to the standard AWD.
Stand out on the road with the unique depth achieved by the dynamic new two-tone wheel design.

The 2018 NX's refreshed interior exudes a sportier feel that's perfectly suited for urban adventures.
An exclusive metallic satin finish on controls, switches and door handles evokes a distinct air of elegance.

The NX F SPORT's front grille features the same jet-black plating seen on the RC F, dramatically enhancing its visual impact.
UNCOMPROMISING VERSATILITY

The NX is smart, striking, and perfect for weekend getaways and city jaunts alike.

DRIVE THE EVOLUTION

Bolder, sharper, better. The new NX pushes the limits of compact SUVs to redefine city driving.
REVIEW

2018 LEXUS NX FIRST LOOK

"The compact SUV has benefited from revised styling, new trim materials in the cabin, and an improved infotainment system."

— Motorauthority.com
CHOOSE YOUR NX
9.2

SECONDS
0 - 100 KM/H

200

KM/H
MAX SPEED

234

BRAKE
HORSEPOWER

9.2

SECONDS
0 - 100 KM/H

180

KM/H
MAX SPEED

197

BRAKE
HORSEPOWER

9.2

SECONDS
0 - 100 KM/H

180

KM/H
MAX SPEED

197

BRAKE
HORSEPOWER

9.2

SECONDS
0 - 100 KM/H

180

KM/H
MAX SPEED

197

BRAKE
HORSEPOWER

7.1

SECONDS
0 - 100 KM/H

200

KM/H
MAX SPEED

235

BRAKE
HORSEPOWER