THE GX SERIES
LUXURY THAT
GOES ANYWHERE.
With an elegant interior and enough space for seven, the GX takes luxurious on-road/off-road possibilities to a new level.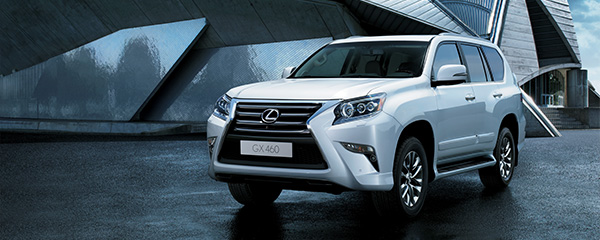 THE GX SERIES
DARE TO GO FURTHER THAN BEFORE.
The GX series offers a six-speed sequential-shift automatic transmission for effortless acceleration and faster shifting response.
Available with a 4.6-liter V8 engine, the GX series delivers an impressive 301 horsepower.

Comfort and amenities in the GX series are as extensive as they are luxurious. 
THE REFINED OFF-ROADER

Forbes covers the Lexus GX 460 in a test drive, offering high praise for its roomy, luxurious interior, and strong off-road performance.

INSIDE THE 2019 GX 460

Explore the new features and upgrades of the 2019 GX 460, a serious contender in the off-road luxury SUV segment.
REVIEW

2016 GX 460

"The GX 460 combines traditional body-on-frame construction, a high-clearance suspension and a full-time four-wheel-drive system to enable serious off-roading."

— Edmunds.com
CHOOSE YOUR GX
8.3

SECONDS
0 - 100 KM/H

175

KM/H
MAX SPEED

292

BRAKE HORSEPOWER